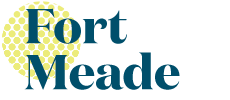 Experience Fort Meade
Maintain your military lifestyle and sense of community in one of Fort Meade's six distinctive neighborhoods. With convenience, value and amenities commonly found in upscale residential neighborhoods, our leasing team is sure to find the right housing option for you. Apply today or contact us to learn more.
Welcome to Fort G. Meade
Fort Meade is a U.S. Army facility established in 1917 as the nation's center for intelligence, information, and cyber operations. Conveniently located between the cities of Baltimore, Annapolis and Washington, DC., Fort Meade provides a safe and secure community and quality of life to support our service members and their families.
The region is a diverse and exciting place to live with a large array of historical and fun places to visit. You can tour the historical sites of Annapolis; visit the White House or the Smithsonian museums in Washington, DC; or attend a football, basketball or baseball game with one of the many professional and college teams in the Maryland, D.C., and Northern VA areas. Our 6 distinct neighborhoods offer homes, townhomes and apartments with all the cost-savings benefits and amenities of living on base.

Come experience Fort Meade today!